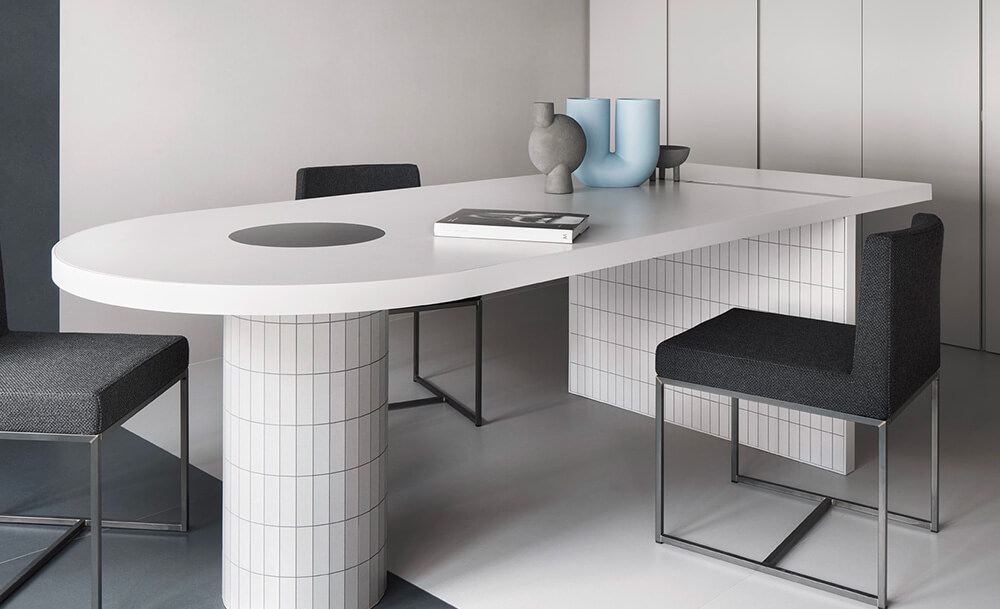 At Salone del Mobile, Italgraniti Group inaugurates a new space of over 200 square metres that doubles the current Flagship Store, already open since 2018, located at number 21 of the central Via Statuto in Milan. Dedicated to designers and architects, a meeting and working place conceived and designed by Italgraniti art directors Andrea Parisio and Giuseppe Pezzano.
An exhibition dedicated to the new collections for the contemporary architectural landscape and the contemporary interior design comes to life in over 400 square metres on two floors, a place for relations, meetings, and experimentation around new decorative languages, close to the designer.
The public will be greeted by the design of large Nuances slabs, 6 mm thick, declined in furniture and furnishing accessories, tables, worktops, kitchen tops and much more, recreating an environment with a strong scenic impact, without posing any limits on expressive freedom.
An exclusive preview of some of the new furniture designed by art directors Andrea Parisio and Giuseppe Pezzano will be presented in the new Flagship Store: the "Quadro" and "Tondo" tables, the "Rotondo" line vases and the "Mamut" line tables, all of them developed using the Nuances collection.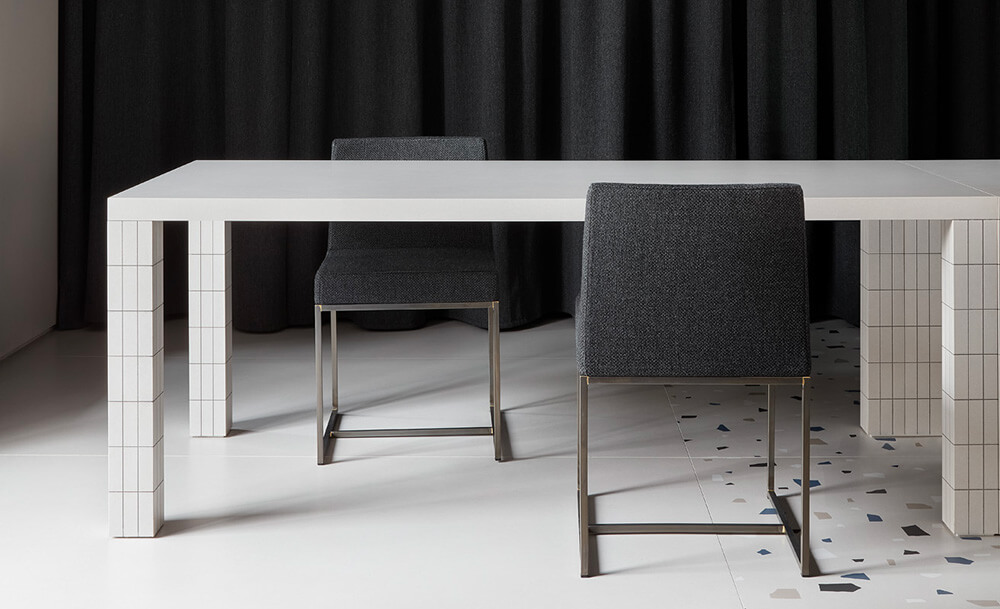 The new first floor of the company's Milan showroom features a second material library, which enhances the product display to the fullest including some of the collections and possible combinations and mixes of materials and shades, a kitchen area, an office, two new bathrooms and a large work area.
The installation is enriched by an outdoor space, also located on the first floor of the Store, a large terrace where 20-mm thick outdoor porcelain stoneware shows all its versatility and ability to adapt to any use with absolute precision and beauty, generating a seamless surface between indoors and outdoors.
On the ground floor of the Milan store, with a window on Via Statuto, we display the "il Colonnato" project curated by art directors Andrea Parisio and Giuseppe Pezzano, already presented at the Salone 2021. The environment is reminiscent of the interior of a house with an all-Italian classicism, where the light, filtered by the "colonnade", punctuates the shadows enhancing the texture of the large slabs of the Silver Grain collection. The same slabs clad the monumental columns and the rational kitchen. There are two essential elements of the space: "inhabiting" the great potential of ceramics and "discovering" them through a large library of sizes, colours and textures.
As in a theatre, the boundary of the "stage" is marked by the curtain, beyond which ceramics can be analysed, studied and composed.
Thanks to the material library located in the centre, the plurality of samples can be perceived and then the vision can be deepened in the micro rooms and large slabs in the side display units.
Italgraniti Group Flagship Store is thus transformed into a new communication channel for asserting the identity of the company and ceramics, capable of escaping from conventions and suggesting new and unprecedented views in any architectural setting.